Dr. Moeinolmolki, who specializes in bariatric weight loss surgery and cosmetic body contouring, is also a renowned general surgeon. The general surgical procedures Dr. Moein provides are offered with the same precision and artistic abilities as he's become known for in bariatrics and cosmetic surgery circles.
When you choose to be a patient under Dr. Moein's care, you can always expect the very best outcome in a state-of-the-art facility at one of three locations throughout Los Angeles, California.
General Surgical Procedures You Can Trust
Dr. Moeinolmolki is one of the most respected and sought-after surgeons in the Los Angeles area. The doctor also regularly provides patients with surgical services from all four corners of the world. The Destination Surgery Experience, for example, regularly treats patients arriving from Europe, Asia, and the Middle East.
Become one of Dr. Moein's surgical patients in Los Angeles or wherever you happen to be by scheduling an initial consultation with Dr. Moein.
Hernia Surgery
A hernia is characterized by fatty tissue and/or intestines bulging through a sac in the abdomen. Hernia surgery will close the opening, then replacing your organs to their original positions, thus alleviating discomfort caused by the condition.
Some hernia conditions produce no symptoms, so they can be difficult to detect. Dr. Moein will recommend hernia surgery for patients who can see the bulge through their skin and may also be experiencing pain.
Dr. Moein offers both laparoscopic and robotic hernia surgery, both with and without mesh.
Robotic hernia surgery is similar to laparoscopic surgery with the only difference being that Dr. Moeinolmolki attends the surgery in a control room separate from the patient. The robotic technology provides Dr. Moein with a 3-D imaging framework of the internal abdominal wall, making the results even more precise for an optimal outcome.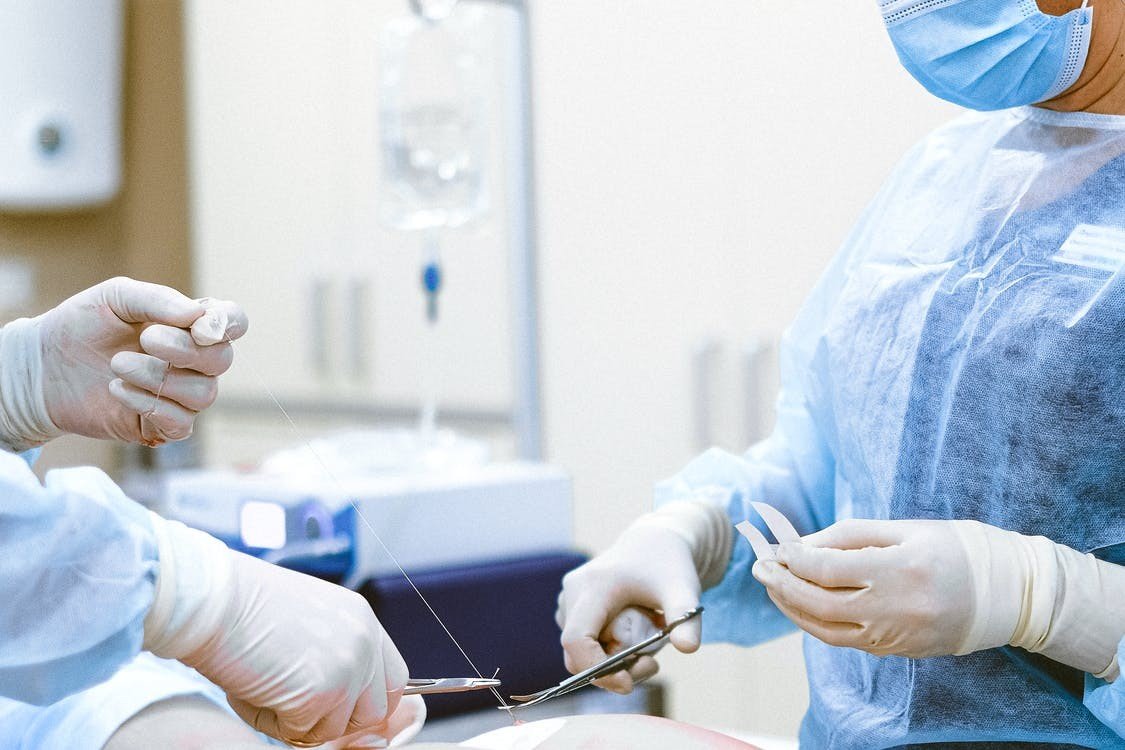 Gallbladder Disease Surgery
Your gallbladder is an organ that stores bile, which is made by your liver and delivers it into the small intestine. Up to 15% of Americans develop gallstones. While most people experience no symptoms from these stones, some patients can experience intermittent blockage of the duct exiting their gallbladder. This can result in intermittent pain after eating. Sometimes this blockage can result in infection and inflammation of the gallbladder. However, gallbladder surgery by Dr. Moein can alleviate your symptoms for good.
Otherwise referred to as a cholecystectomy, removal of the gallbladder is performed laparoscopically by removing your gallbladder entirely through a tiny incision near your belly button. The loss of gallbladder will mean that bile moves directly from your liver to your small intestine. The procedure is common with most people living perfectly healthy lives without their gallbladders.
In most cases, you can expect to return to your regular activities within two weeks. Ask Dr. Moein about the specifics of your case when considering gallbladder disease surgery in Los Angeles or anywhere else in the world.
Hiatal Hernia Repair (GERD)
A hiatal hernia is a condition where the upper part of your stomach begins to bulge through a large muscle (diaphragm) that separates your abdomen from your chest. Within your diaphragm is a tiny opening that the esophagus passes through before connecting to your stomach. When you have a hiatal hernia, your stomach is pushing through that opening and into your chest.  
Many Hiatal hernias never cause any problems. Sometimes, however, they allow food and stomach acid to back-up into your esophagus, which can cause a host of problems. Issues associated with hernia include heartburn, regurgitation of food and stomach acid into the mouth, shortness of breath, bloody vomiting, and black stool (which is an indicator of gastrointestinal bleeding).
Dr. Moein will generally recommend hiatal hernia repair for patients considered at higher risk, such as those over 50 and with a BMI over 40.
Treatment for hiatal hernia varies, depending on the severity of the condition. Many times, Dr. Moein will prescribe antacids or prescription medications to manage less severe cases of hiatal hernia.
For more severe cases, such as when inflammation occurs or there is a narrowing of the esophagus, Dr. Moein may recommend laparoscopic hiatal hernia repair.
Using a tiny camera, Dr. Moein will identify the area of the hernia, return your stomach to its proper location, and therefore, narrow your diaphragm hole.
Eventually, you can expect to return to your normal activities within two to four weeks.
If you are experiencing a hiatal hernia, let Dr. Moein help to relieve your symptoms. Schedule an initial consultation today and ask if hiatal hernia repair is right for you.
Emergency General Surgery
Dr. Moein regularly lends his skills to even the most life-threatening situations.
Dr. Moein is an expert at treating all acute general surgery issues, including hernias, gallbladder problems (cholecystitis), appendicitis, major skin infections, and other complex cases that require a higher level of care. If needed, Dr. Moein can also perform life-saving bedside procedures for critically ill patients.
Dr. Moein also works with state-of-the-art emergency surgery technology, which includes advanced diagnostic and monitoring equipment. In addition, he provides thorough after-care to ensure patients are healing appropriately post-procedure.
Schedule General Surgery with Renowned Surgeon, Dr. Moein
Dr. Moein provides general surgical procedures to patients throughout Los Angeles. Patients also arrive from Europe, Asia, and the Middle East to experience surgical precision under Dr. Moein's care.
Each surgical plan is also tailored for your goals and medical history. The plan will include treatment and post-surgical care. Dr. Moein is meticulous with his after-care and has even been known to make home visits to ensure proper recovery.
From wearing a compression garment to managing pain using over the counter or prescription medication, and even addressing dietary concerns, Dr. Moein will monitor your progress throughout treatment and recovery for optimal results.
Whether you require an emergency appendectomy, gallbladder surgery, or repair surgery for a hiatal hernia, Dr. Moein wants to meet with you.
Schedule an appointment with Dr. Moein and staff at Healthy Life Bariatrics for general surgery you can trust.