HLB is the product of 10 years of carefully listening to our patients needs and identifying the recipe for success through our patient's experience and feedback. By understanding our patient's struggles and applying the most effective treatment methods and tools into one program we have created the platform for success. HLB program is truly unique in bringing multiple disciplines of medicine and surgery under one roof to empower our patient to discover a healthier, happier, lifestyle. We can successfully do this by combining three different disciplines of medicine into one program. Although many programs attempt at doing this because of financial issues that balance rarely works seamlessly as in our program. These disciplines include medical weight management, surgical weight management, and psychosocial support structure. As part of the program we also provide an integrated post surgical body-contouring program to help our patients complete their journey in an affordable manner.
At the core of the program we identify obesity as a disease that requires proper evaluation, understanding, and treatment. Obesity is a disease that is poorly understood by the medical community and society. Our goal is to provide individualize, compassionate approach to the treatment of obesity under one roof. The staff at HLB have been carefully selected and educated to recognize obesity as a disease, and treat each and every patient with dignity and respect they deserve.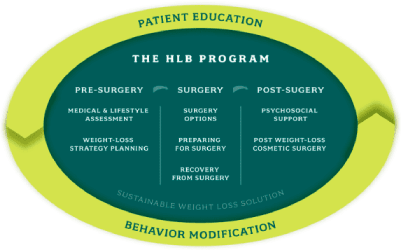 Pre Surgery: Patient Education, Medical & Lifestyle Assessment, and Behavior Modification:
At HLB we prepare you for a new chapter of your life. We strive to redefine you and your health so you can make better decisions towards a better life for you and your family. As part of our program we educate you about the importance of a nutritionally balance healthy diet. Empower you with the knowledge and how to use your new body. We tailor a program that considers your medical, physical, and emotional state. Our goal is to achieve the success that you are striving towards. We listen, evaluate you and treat you with respect and compassion. A multidisciplinary group evaluation is critical in creating a successful treatment plan for you. Our lead surgeons carefully draft a plan of care for you through a multidisciplinary group evaluation. As part of your initial consultation a nutritional, physical, and a psychological evaluation will be performed on each patient. Your nurse case manager will at all time coordinate your needs and strategize the best plan of care for you.
Healthy Life Weight, is a stable weight range that allows the body to remain in a physiologic and psychologic balances state. Most patients at this weight will find that they are not consumed by hunger and their energy level is optimized with a new sense of vitality. The recognition of this balance is a critical part of what we do at Healthy Life Bariatrics. We work with our patients to get them to their Healthy life weight and maintain their balance in that new physiologic state. This is a very sensitive part of our treatment approach, one that is often not appreciated by other programs that are driven by quantity of cases they need to perform. We will follow you closely to ensure your balanced progress. At each individual meeting you will be monitored on specific parameters assessing your healthy life goals, including your dietary balance, your daily exercise routine and your psychological state.